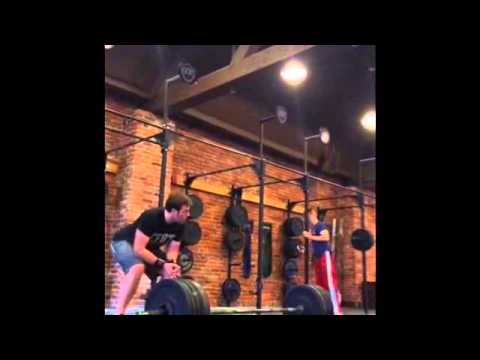 Name: Christopher Hadlock
DOB: August 26th, 1975
Occupation: Artist / Bartender
CrossFitting Since: April 2014
First Memorable CrossFit Experience: In my first month of CrossFit, we were doing a WOD which included box jumps EMOTM and I wasn't very efficient at box jumps and had no stamina. Eric came over just after about halfway through — I was floundering and barely able to step up — and told me that I'd probably be able to get more out of the rest of my time if I took a minute off. I thought, "Um, okay," took a minute off to breathe, and when I got back into it, I was able to finish out the WOD with much better vigor. I was sold on the coaching of CrossFit.
Favorite WOD: I think my favorite WOD is… I have no way to quantify this except to say that I'm looking forward to repeating and improving my performance on the Open workout 16.4:
55 Deadlifts
55 Wall balls
55 calorie row
55 Handstand push-ups
Favorite Lift: It's a tie between the Deadlift and the Clean
Least Favorite WOD: Without a doubt Open workout 16.1: overhead walking lunges with burpees. F**k that… which means I need to work on those, and I get that. But, f**k that.
Favorite CrossFit Moment: My favorite CrossFit moment is either that moment when everyone is milling around or getting to know one another before the class starts — there's an excitement or anticipation of what we're about to do — or the moment you finish a workout which has smashed you and you know it's over. And they happen every time I come to CrossFit.
Why You Do CrossFit: Along with the previous answer, it's the community. And, I come away feeling like a functional human. I can accomplish anything.
Favorite Cheat Meal: Pad Thai followed by ice cream.
CrossFit Secret: Save the cheerleader, save the world. No, really. Show up. You have to experience it to love it. Just keep showing up.
What Do You Do On Rest Days: Bartend, bike.
What Can't You Live Without: Oxygen, but I keep testing that theory with running.
Favorite Vacation Spot: NYC