Workout: 15.5
27-21-15-9 reps for time of:
Row (calories)
Thrusters (95,65)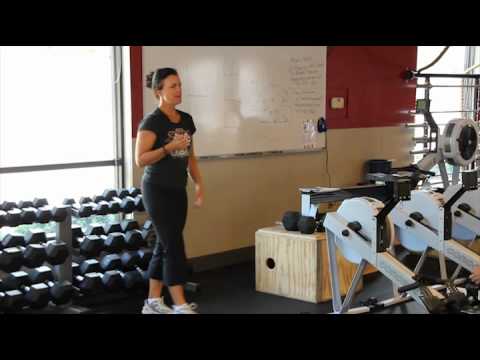 Reach & Rock!
Four down… One to go. CrossFit athletes across the world have spent the last four weeks wall balling, muscle-uping & clean and jerking their way through the 5th Annual CrossFit Games Open. There have been surprises and tears, sweat given and blood spilled. We've seen ripped palms, unvanquished spirits, CrossFit miracles and undeniable victories over ourselves. Now with only one workout remaining, it's time to muster all the strength and mental toughness we have left, because make no mistake about it, Rx'd or Scaled; 15.5 is going to be tough… really REALLY tough!
Mental Approach ~ This workout is all about engine, stamina, and ultimately… mental toughness! In general, blowing it out at 100% on the row would be unwise. Use a higher damper setting to give you more calorie credit for each stroke. For the thrusters, you get to use the exact same muscle groups as you did in the row,  however now with the added pleasure of the overhead press. Suffice to say, you're really not going to want to pick up the bar right away. But you must. Remember to find places to breath [the return on the row / the top of the thruster / any transition between movements]. Keep in mind these are two VERY similar movements. They pay dividends for those who do them right and punish those who violate their core-to-extremity movement patterns.
Warm up ~ This workout will definitely require a lap or two around the block at a casual pace, interspersed with 2 to 4 sprints along the way, each lasting no more than 5seconds. This will help to elevate your heart rate without overtaxing the energy systems responsible for carrying you through the workout. Also be sure to warm up your shoulders and hips to help with your squat and overhead positioning. Finish things out with 4-6 minutes of 'couch stretch' to help open up the quads for the row.
 Tricks & Tips ~ The Row ~ In order to maximize your body's muscle and tendon elasticity, you should let your heels come up 1 to 2 inches at the front of every stroke and then powerfully drive them back down on the drive. We all have these massive springs behind our legs called the Achilles Tendon that are strong enough to create a tremendous amount of force over our own bodyweight. Being as how the heel cord is so thick and strong, you should utilize it's energy to help initiate the the beginning of each stroke. By driving your heels down as the first movement out of the catch, you are helping yourself to drive with the legs rather than opening too soon with your shoulders and thus giving way tons and tons of sacred hip power. The Thruster ~  Stay in your heels as best as possible; the rower will have already started to attack your quads from being in your toes at the front of every stroke. Make sure you are using your hips to elevate the bar overhead. And should you wish to 'rest' with the bar in hand, make sure you pause with it in the rack position rather than keeping it unnecessarily overhead for too long.